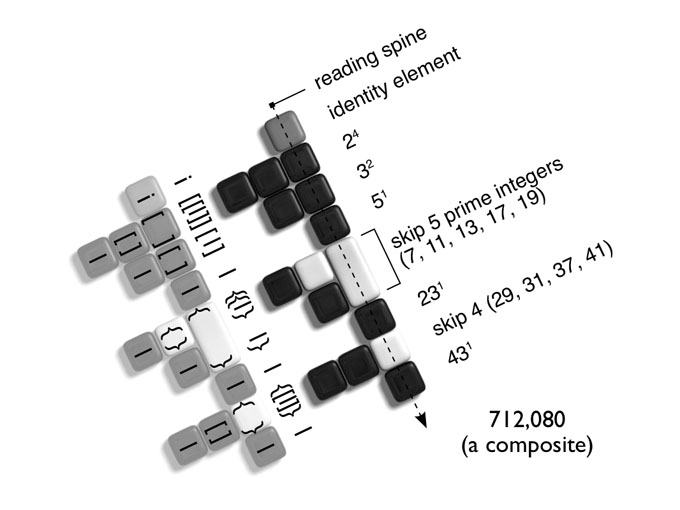 I am off to New Orleans for SIGGRAPH 2009. I will be presenting my Encoding with prime factors series during a panel discussion, The State of Aesthetic Computing or Info-Aesthetics, on Monday, 3 August at 3:45 p.m.
This will be my twelfth year contributing to the conference.
I especially am looking forward to the Computer Animation Festival's Stereoscopic program and, before the conference starts, the 7th International Symposium on Non-Photorealistic Animation and Rendering.

Codified in artwork, events and news | permanent link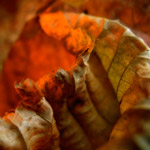 You don't make a photograph just with a camera. You bring to the act of photography all the pictures you have seen, the books you have read, the music you have heard, the people you have loved.
— Ansel Adams
I just returned from a five-week visit to Singapore. I was invited by Lucasfilm Animation Singapore to do some training for the apprentices in their Jedi Masters Program. While there, I also gave seminar presentations on my body of work, a behind-the-scenes, technical look at the same, and on stereoscopic imaging (its history, some important technical concepts and the creation of anaglyphic images from photography).
Here is one of my photographs from Singapore that was shown during the stereoscopic imaging presentation. We found this wonderful display of waylang golek puppets in a Singapore store, Mata-Hari. I took the photograph as a stereoscopic pair and it is presented here first as one of the original photographs and second as an anaglyph.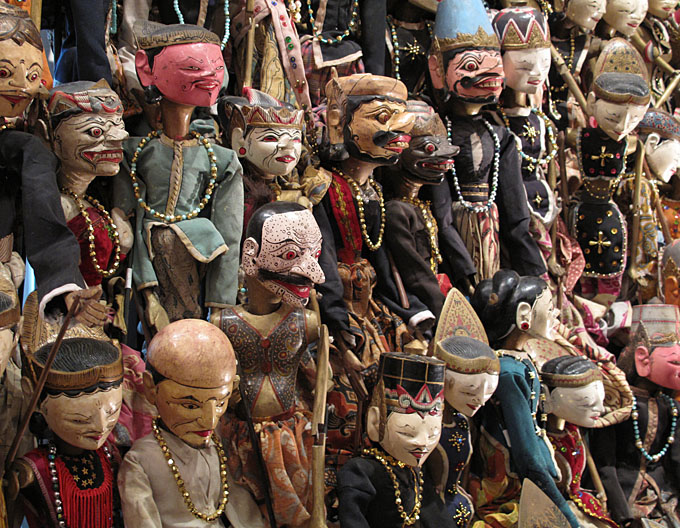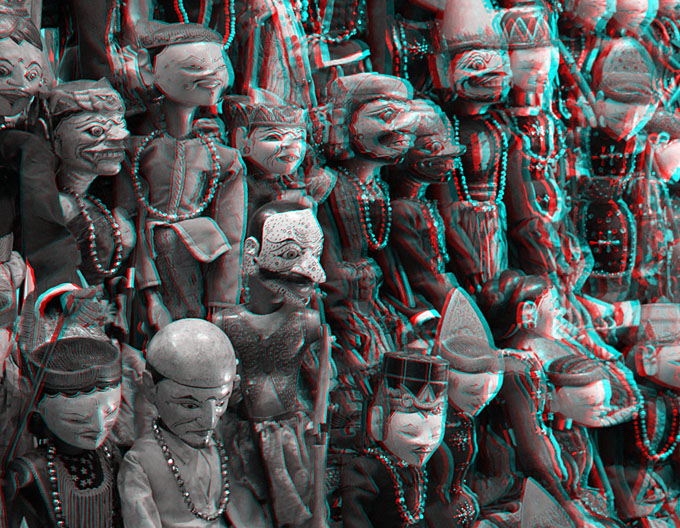 I had the opportunity to visit and present my work to a number of schools during my time in Singapore, including Egg Story Digital Arts School, the Temasek Design School at Temasek Polytechnic, the School of Interactive and Digital Media at Nanyang Polytechnic, the School of Digital Media and Infocomm Technology and the School of Design at Singapore Polytechnic, Intense Animation Academy and SAE Institute Singapore.
Lucasfilm Animation also sponsored a public lecture at the studio.

Grouped with events, news, personal, photography and stereoscopic | permanent link
Here is a photograph of one of my print works, 2000.16b, showing in the Ars Electronica Center's Deep Space gallery. There are people standing on my artwork and I do not mind in the least.
deep space II (aec). Originally uploaded to flickr by magrolino.
There is another photo here of 2005.1.

Placed in artwork, events and news | permanent link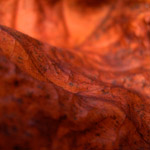 The advice I like to give young artists, or really anybody who'll listen to me, is not to wait around for inspiration. Inspiration is for amateurs; the rest of us just show up and get to work. If you wait around for the clouds to part and a bolt of lightning to strike you in the brain, you are not going to make an awful lot of work. All the best ideas come out of the process; they come out of the work itself. Things occur to you. If you're sitting around trying to dream up a great art idea, you can sit there a long time before anything happens. But if you just get to work, something will occur to you and something else will occur to you and somthing else that you reject will push you in another direction. Inspiration is absolutely unnecessary and somehow deceptive. You feel like you need this great idea before you can get down to work, and I find that's almost never the case.
— Chuck Close
The Telfair Museum (Savannah, Georgia) is holding their annual art and technology event, now a festival, in their Jepson Center for the Arts. The PULSE: Art and Technology Festival will run 21–31 January 2009. One of my prints, 2003.1a, and a time-based work, 2007.2a, are being shown and I will be presenting a lecture on my work during the event.
Here is 2003.1a and a detail from that print work:
2003.1a, limited variant edition print, 2003, Kenneth A. Huff.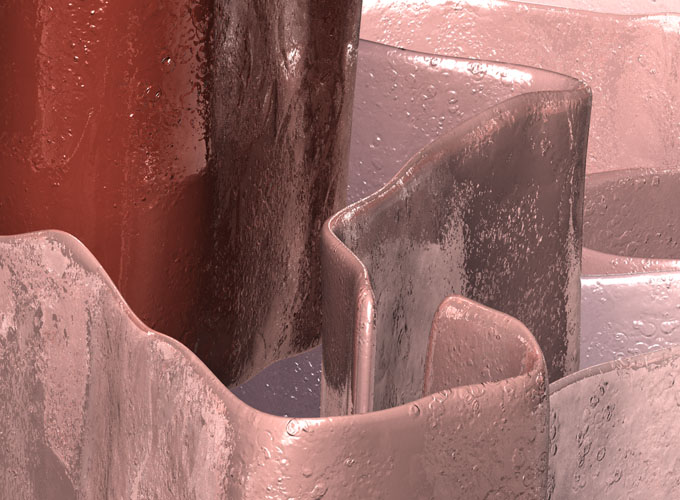 Detail from 2003.1a, limited variant edition print, 2003, Kenneth A. Huff.
And here are some still frames from the animated work, 2007.2a (you can see short excerpts from the piece here and here):
Still frame from 2007.2a, seamlessly-looping high-definition animation, 12 minutes, 2007, Kenneth A. Huff.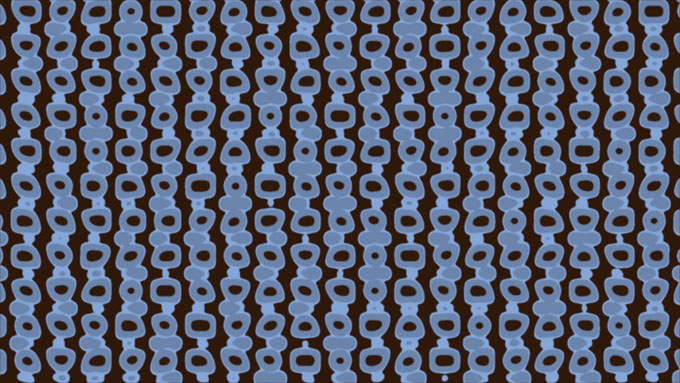 Still frame from 2007.2a, seamlessly-looping high-definition animation, 12 minutes, 2007, Kenneth A. Huff.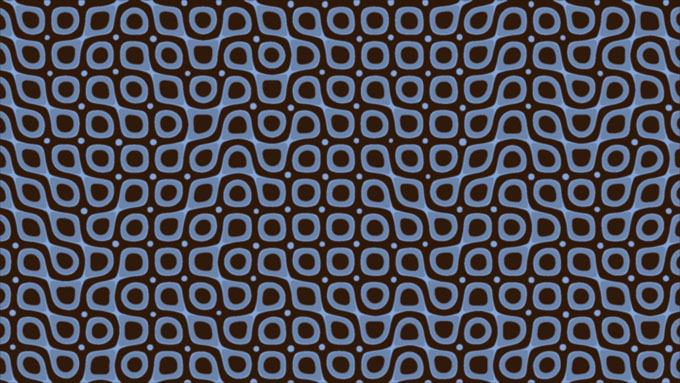 Still frame from 2007.2a, seamlessly-looping high-definition animation, 12 minutes, 2007, Kenneth A. Huff.
The lecture will be at 12:30 p.m. on Monday, 26 January 2009 in the Jepson Center Auditorium. I will be presenting my body of work, focusing on the inspiration and ideas behind the work, with particular emphasis on the two series of works represented by the two pieces above.
While the festival ends on 31 January, the museum currently is scheduled to continue showing my print and animation throughout 2009.
[Personal aside: I am particularly excited to see tonight's performance by Ben Neill and LEMUR (League of Electronic Musical Robots).]

Grouped in artwork, events and news | permanent link
I am very happy to announce that my work is now being shown at the Ars Electronica Center in Linz, Austria. Twenty of my still images and two site-specific time-based works are being shown in the Center's Deep Space projection space. The showing is currently slated to last at least through 2009.
The Ars Electronica center is one of the longest-established centers for new media art, celebrating its thirtieth anniversary this year. On 2 January 2009, they celebrated the grand opening of a new building and the start of Linz's year as the European Union Cultural Capital.
In the Center's new building, Deep Space is a dedicated projection gallery with the capacity to show 4K (3840 by 2160 pixels), stereoscopic, 16 meter by 9 meter projections simultaneously on the wall and floor! With my still images, visitors will be able to zoom in on the full detail of the works, allowing them to explore the works in a way that until now was only possible in my studio. Very exciting.
Through fortuitous circumstance, I was in Linz for a site visit on the day the Deep Space projectors were turned on for the first time and my pieces were the first images to be projected in the space.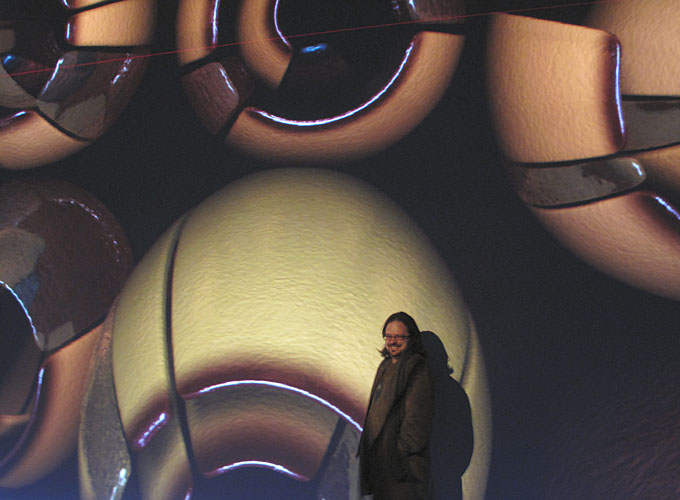 Here I am standing in front of a portion of EPF:2003:V:B:5::383(25) with a silly happy grin.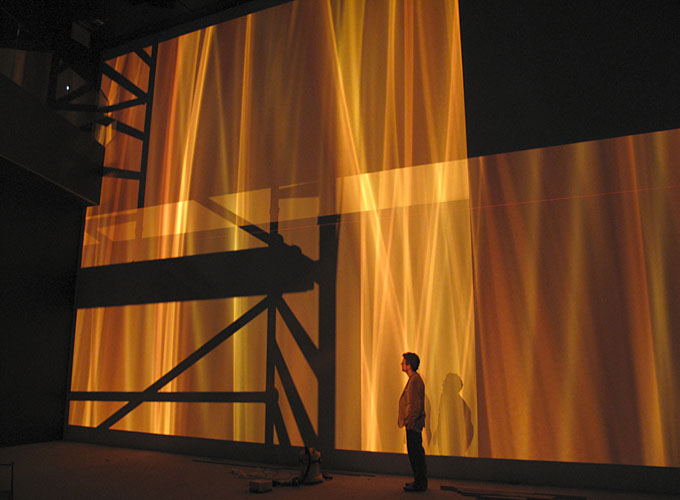 Here is Sean, acting as human scale, in the space, standing in front of a projection of my time-based work, 2007.3. The horizontal red laser line is being used temporarily for projector alignment. Four projectors are being used for the wall and another four for the floor (one of the projectors shut down within a few minutes of starting up). The bright horizontal and vertical bands are the projector overlaps that had yet to be blended away in the installation. (All of this is from early December, when the new building still was very-much-under-construction.)
In addition to the still images being shown, I prepared site-specific versions of 2006.7 and 2007.3 to be shown in the space. The two time-based works were recreated to take full advantage of the 4K cinematic projectors. Below are reduced stills from 2006.7 (Deep Space) and 2007.3 (Deep Space).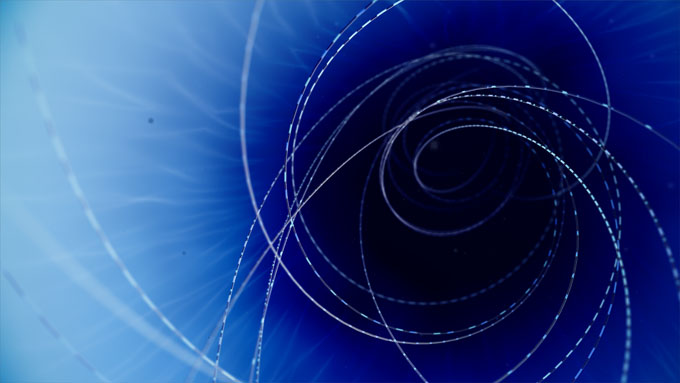 Additional events incorporating my work are being planned throughout the year, including during the Center's annual Ars Electronica Festival, 3–8 September 2009. I will post details here as soon as they are available.
Some links:

Tucked away under artwork, events and news | permanent link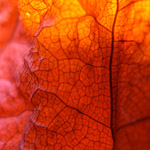 In my mind I am eloquent; I can climb intricate scaffolds of words to reach the highest cathedral ceilings and paint my thoughts. But when I open my mouth, everything collapses.
— Warm Bodies by Isaac Marion
« Recent entries
::
Earlier entries »