I just returned from a five-week visit to Singapore. I was invited by Lucasfilm Animation Singapore to do some training for the apprentices in their Jedi Masters Program. While there, I also gave seminar presentations on my body of work, a behind-the-scenes, technical look at the same, and on stereoscopic imaging (its history, some important technical concepts and the creation of anaglyphic images from photography).
Here is one of my photographs from Singapore that was shown during the stereoscopic imaging presentation. We found this wonderful display of waylang golek puppets in a Singapore store, Mata-Hari. I took the photograph as a stereoscopic pair and it is presented here first as one of the original photographs and second as an anaglyph.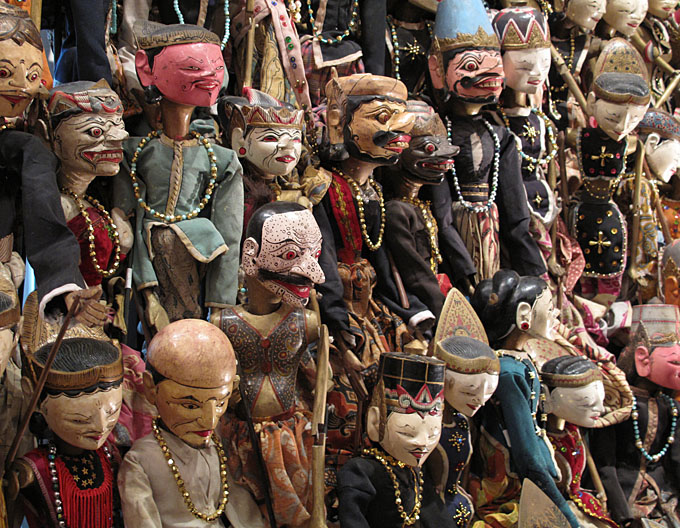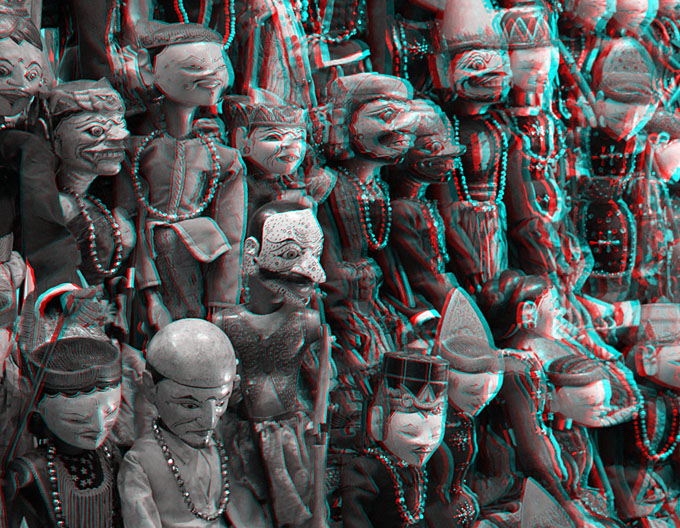 I had the opportunity to visit and present my work to a number of schools during my time in Singapore, including Egg Story Digital Arts School, the Temasek Design School at Temasek Polytechnic, the School of Interactive and Digital Media at Nanyang Polytechnic, the School of Digital Media and Infocomm Technology and the School of Design at Singapore Polytechnic, Intense Animation Academy and SAE Institute Singapore.
Lucasfilm Animation also sponsored a public lecture at the studio.

Classified in events, news, personal, photography and stereoscopic | permanent link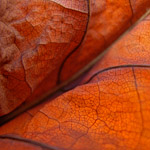 Thousands of candles can be lighted from a single candle, and the life of the candle will not be shortened. Happiness never decreases by being shared.
— Buddha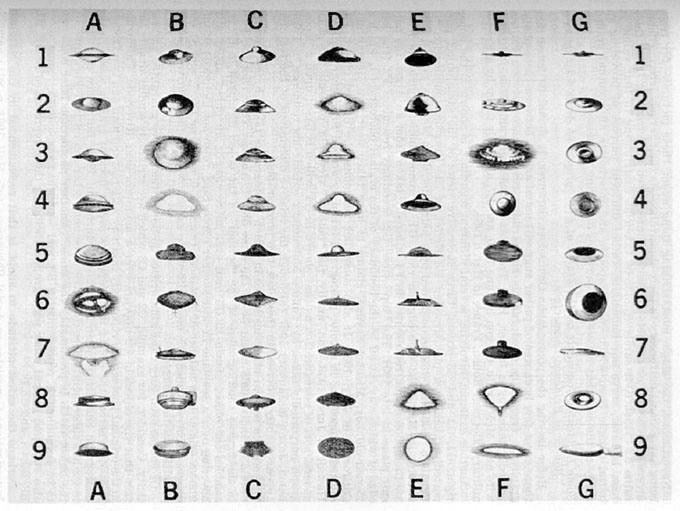 They said they'd come back for me if I said anything.
[Via Coudal Partners]

Assembled with brain kibble and personal | permanent link
Partly in preparation for upcoming events at the Ars Electronica Center (more on that soon) and partly to take a long-delayed vacation, Sean and I visited Austria and France in early December.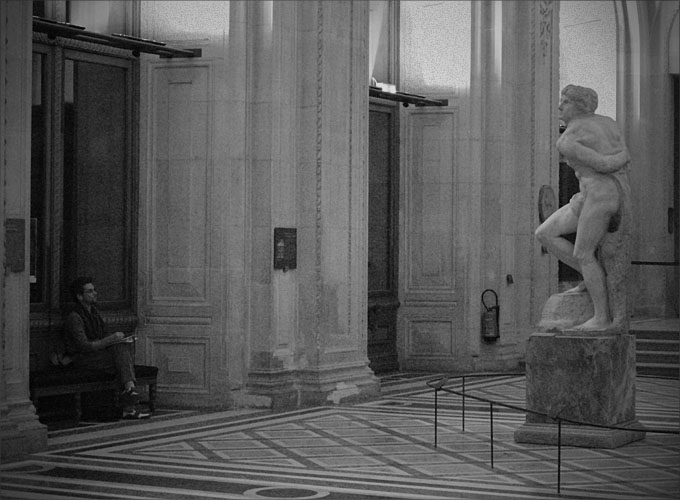 Above, Sean is drawing one of Michelangelo's Slaves in the Musee du Louvre.

Sorted under personal | permanent link
A few months ago, I found some of these:
"We are most truly ourselves when we achieve the seriousness of a child at play."
— Heroclitus
On my early morning walk a few days ago, I found another and decided to adopt it.
I was remembering again my favorite biology teacher and thinking to myself, "Self, what is this caterpillar going to become?" So I brought it home, placed it in a jar with a shoot of bamboo (for structure), a sprig of basil (for sustenance) and a wisteria seed pod (for transportation). I thought I would take some photos of the current specimen, but it turns out it was shy, and by the afternoon, it had wrapped itself in the leaves. So now I have this: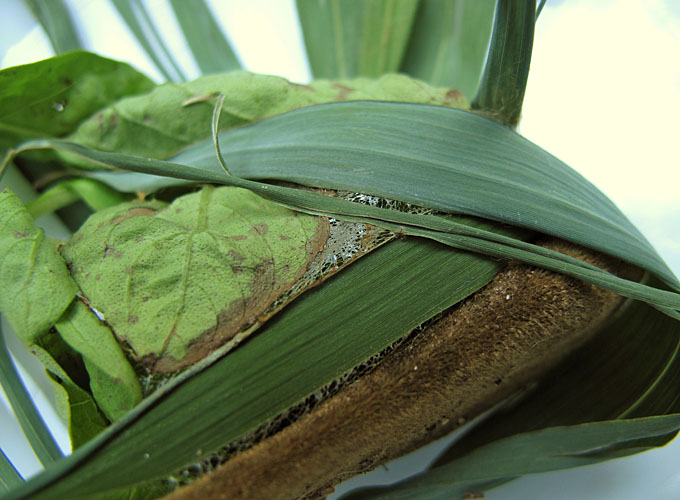 A wonderful structural detail: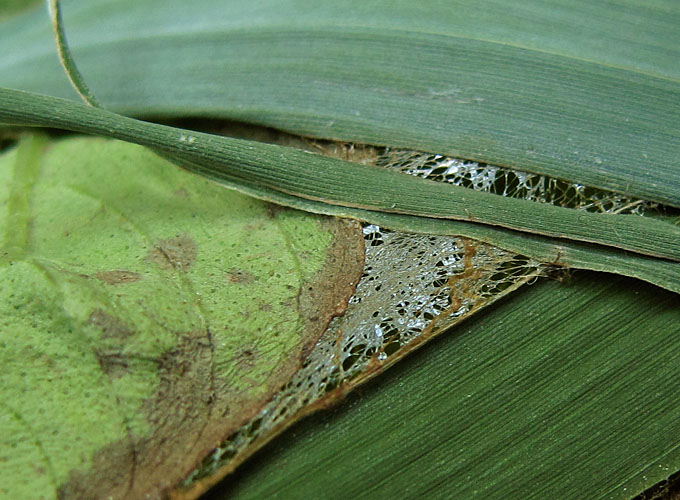 From the archives, a mug shot (or a tail shot, it's hard to tell):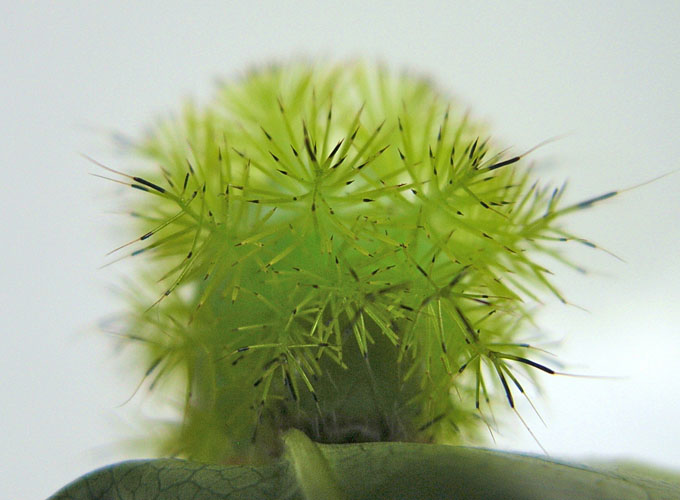 I love these feet: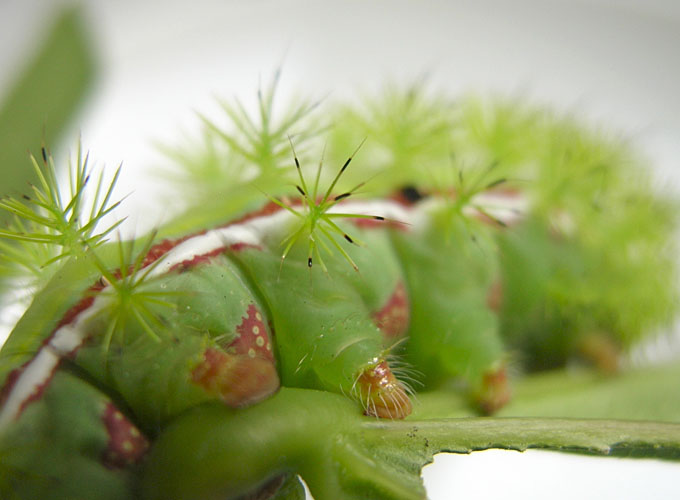 That's all. Well, okay, one more of those wonderful feet: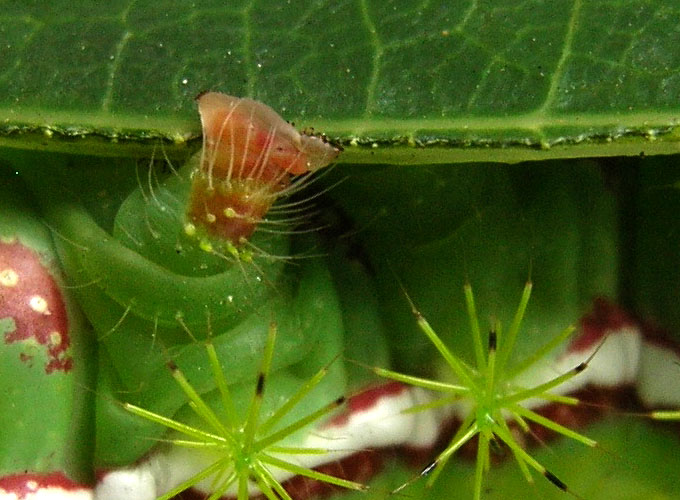 So, after I found my caterpillar and decided to adopt, I had to carry it back home. I placed it on a leaf and went on my way, only to pass three or four people walking their dogs. Some people walk their dog, I walk my caterpillar. You know, 'cause that's what you do when you have a caterpillar.
I am not going walk the cocoon…that would be weird.
Stay tuned…

Listed in brain kibble, personal and photography | permanent link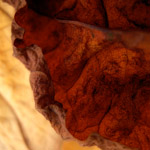 I always have a curious sort of feeling about some of my things — I hate to show them — I am perfectly inconsistent about it — I am afraid people won't understand — and I hope they won't — and am afraid they will.
— Georgia O'Keeffe
"Nobody sees a flower — really — it is so small it takes time — we haven't time — and to see takes time, like to have a friend takes time." — Georgia O'Keefe
A few weeks ago, this moth caught my eye in our garden. I grabbed my camera and stealthily took pictures of my newly-found subject. Well, I thought I was stealthy. After a few minutes, I wanted to see if I could coax the moth to change position ("Turn a bit more toward the light please and chin up.") only to find that it was dead. Stiff as the proverbial board.
Now it is part of my collection of curiosities and a permanent point of inspiration.
One of the things I love about macro photography is that I end up being able to see things in the captured image that I cannot see with my naked eyeballs. Case in point: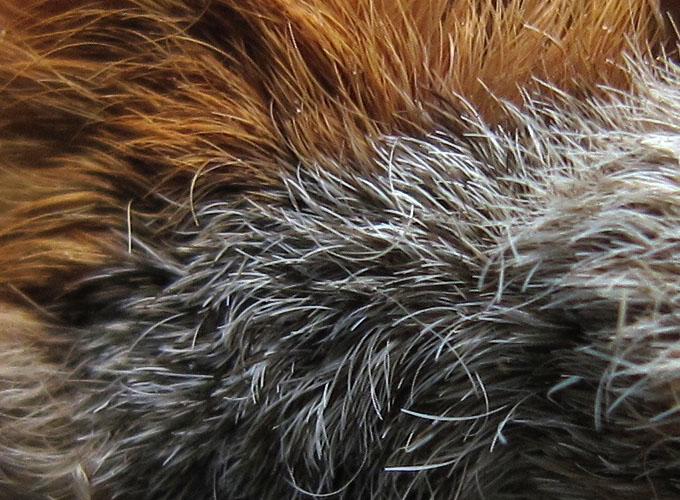 Luscious. If there are any lepidopterists reading this, I would be grateful to know the species of my furry find.

Cataloged with brain kibble, personal and photography | permanent link
Earlier entries »